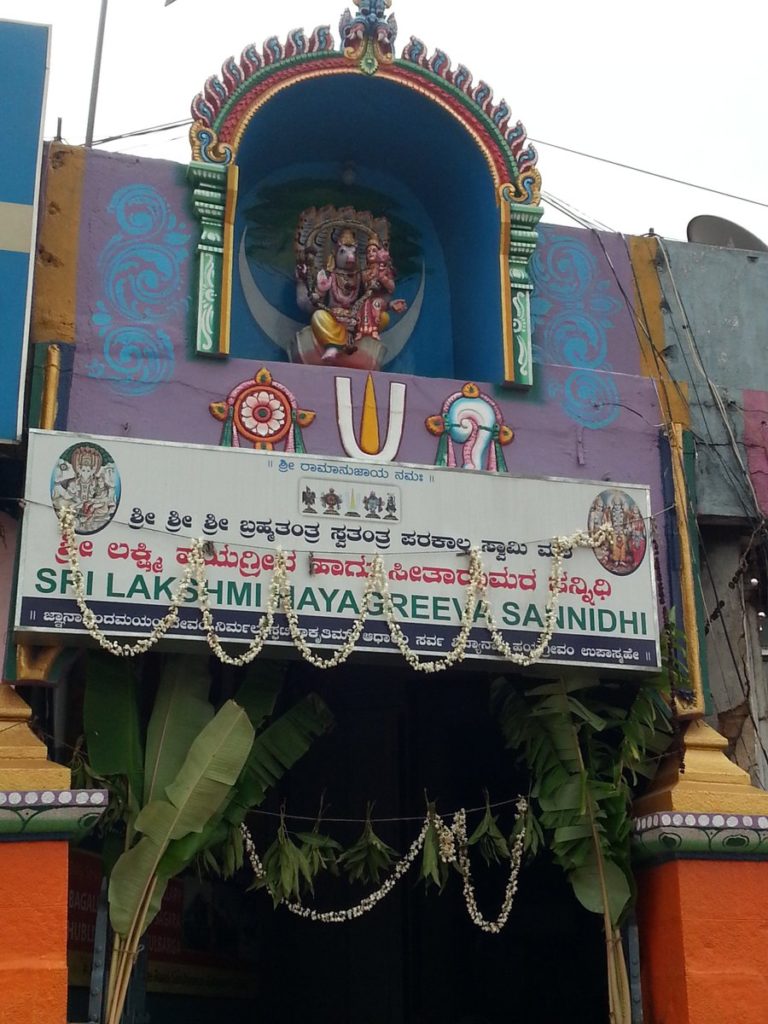 Parakala Mutt at Bangalore is a well-known landmark at the center of this historic city, for more than three quarters of a century. The present building was inaugurated by Dr.Sarvepalli Radhakrishnan, the first Vice-President of the Republic of India.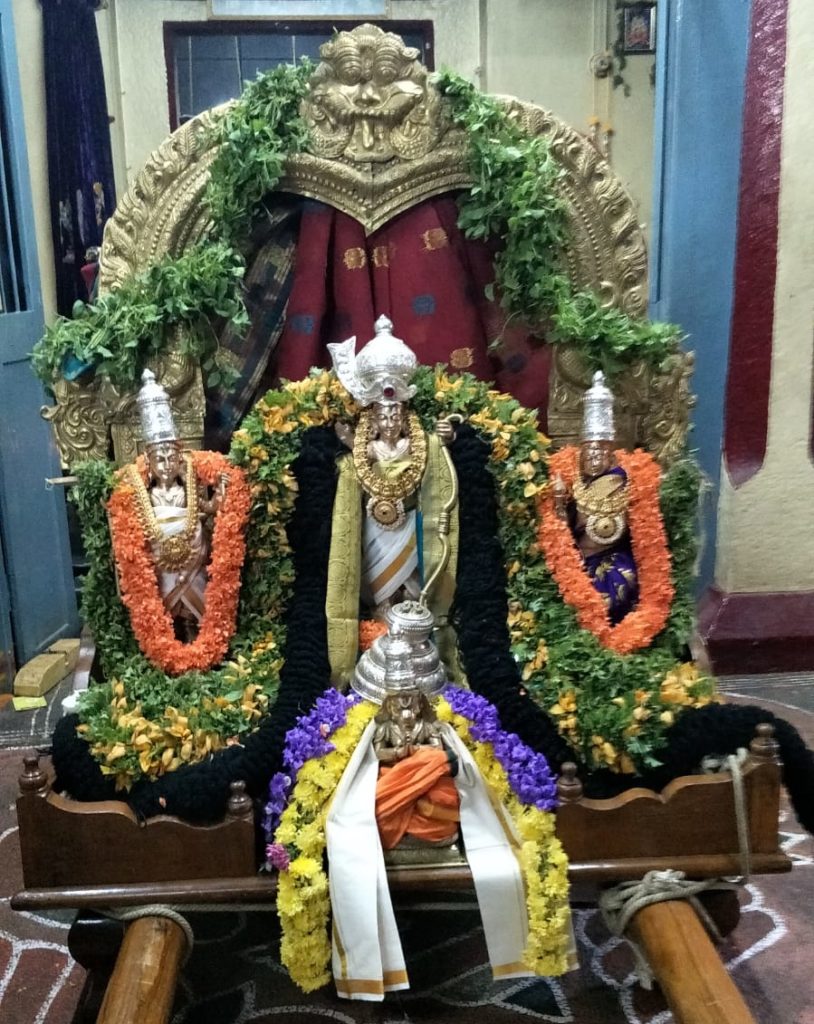 The Mutt has a Sannidhi for Si Lakshmi Hayagriva and Sri Kodanda Rama, large function areas for devotees to congregate and facilities for the Acharyan and his entourage to stay during their visit. During the last couple of decades, the Mutt has become a very active center of religious activities throughout the year. A goshale (Cow-Pen) has been recently added.
Important Annual Events
January: Adhyayanotsavam, VaikunthaEkadashi, Andal Kalyanam
February: Hayagriva Homam
March: Ugadi
April: Bhagavad Ramanuja Tirunakshatram, Vairamudi, Sri Rama Navami
May: Prastuta Acharyan Tirunakshatram
June:
July:
August: Upakarmaam, Hayagriva Jayanti
September: Sri Krishna Jayanti
October: Navaratri Utsavam, Swami Deshikan Tirunakshatram
November: Deepavali
December: Kartigai, Dhanurmasa Utsavam
The number of devotees visiting the Sannidhi and participating in the various events throught the year has grown rapidly during this period. Several functions and utsavams are celebrated throughout the year. Most notable of these are the Annual Hayagreeva Homam, the Annual 21-day Adhyayanotsavam, Kalyanotsavams, Acharya Tirunakshatrams, paadukasahasram recitals etc.
The Mutt activities are organized by an enthusiastic group of volunteers and managed by a local Managing Committee.
Recent & Upcoming Events
LINK TO PROGRAM ANNOUNCEMENT
LINK TO PHOTOS
Dec 5-8, 2022: Tiru Kaliyan & Tiruppanazhvar Tirunakshatrams & Tiru Kartigai Celebrtions at Bengaluru Mutt, Dec 5 -8, 2022

Link to Sri Parakala Matham Facebook
Link to Sri Parakala Matham You Tube Channel
Normal Mutt Hours
All days: 9.00 A.M – 12.00 PM, 6.00 P.M- 8.30 P.M
Hours vary during Dhanur Maasam and on other special occassions. These will be notified at that time.
Recent Photos, Audio & Videos
14/May, Friday, 5 PM: *"Thiru Pallandu anubhavm of Sri Maha Parakalaswamy"* by *Sri Ue.Ve. Navalpakkam Vasudevacharya Swamy*, Tiruvanandapuram. Youtube LIVE link: https://youtu.be/2sE0EztfuSo
15/May, Saturday 5 PM: *"Kanninum Chiruttambu anubhavam of Sri Maha Parakalaswamy"* by *Sri Ue.Ve. Vaduvur Veeraraghavacharya Swamy*, Chennai. Youtube LIVE link: https://youtu.be/X8GtvtgNB4k
16/May, Sunday 5 PM: *"'Kandukonden naaraayana enum naamam' anubhavam of Sri Maha Parakalaswamy"* by *Sri Ue.Ve. Sogattur Ramanujacharya Swamy*, Bangalore. Youtube LIVE link: https://youtu.be/1Wm-BydjHS0
Address
Sri Brahmathantra Swathantra Parakala Swamy Mutt,
8 Tank Bund Road, Opp Bangalore Bus Stand,
Bangalore – 560 009
Contact :
Contact Person: Sri Krishnaprasad
Phone: +91 94485 05441
GOOGLE MAP
On-Line Seva for Sri Lakshmi Hayagreeva
You can now book your seva online. During this COVID time, we understand it is difficult to visit temple. You can do the Seva of your wish from home itself. Please contact [email protected] for more details and to book your seva.

Support our Activities
If you wish to support the activities of this Branch of the Mutt directly, please make your contribution using the option below that is appropriate for you:
Donors from India:
By check Payable to Sri Parakala Mutt, Bengaluru and mail it to our Mutt address given on the left. If you wish to make a payment on line, please contact [email protected] for Bank account details.
Donors from outside India
Contact Sri Ramesh Talkad at [email protected] for instructions. Alternately, you can send your contribution as a "General Donation" to our US Affiliate, PLM, USA by going to the general PAYMENT PAGE